So after a lovely birthday weekend (thanks for all the birthday greetings!), everything is back to the fast and faster pace of what is seeming to be the normal life. But! I have some exciting things going on so I thought to myself, "Aime, you should write some of this down so you don't forget it." So I am writing it down. =) You, my dear readers, get to help keep me accountable and tell me to keep working and stop getting sucked into the glorious world of handmade things on Etsy!
(I admit it...I waste a lot of time admiring and drooling over other artists on Etsy...I will try harder to get work done.) =)
Cold Hands, Warm Hearts!!!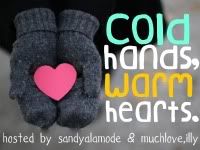 I am so excited to be a part of this!!! I love
Sandy
and
Ilene
and thought this was a great idea! I almost didn't end up doing it because I wasn't sure I would be able to commit to the idea but I am so glad i did. The idea of a present before Christmas is making me feel like a little kid again! =)
When you read about it on their blogs, think about it as a good way to do office holiday gift exchanges or long distance with your family! I wish I had been creative enough to do something like this while I was in college! It would have been great for girls' dorms!
I'm afraid I didn't make this very clear in my last post but I am leaving the giveaway open for one week! So I will do the drawing and announce the winner this coming Saturday, November 13th! So please feel free to keep spreading the word about it and letting people know to enter! Here are the instructions to enter one more time:
2) tell me what your favorite item is
3) share it with your friends on twitter or facebook
4) comment here on my blog telling me about it!
If you have already done all of the above, then I have your entry and you don't need to worry about doing it again (unless you feel like spreading the word about
Sense and Sensibility
out of the goodness of your heart!) =)
So I had a lovely, but interesting, birthday weekend. My hubby took me to Disneyland that day and we were waiting to go on my favorite ride (which is Toy Story Midway Mania) when all of a sudden everyone in this line we were standing in started coughing! It started with one person and slowly spread through this little room (if you have been to any Disney amusement park, you have a pretty good idea of what I'm talking about). Throats were burning and it was painful to breath - a unique experience for standing in line. It felt like coughing was the only way to get rid of it but it wasn't really working. We finally get out of there and find out after the ride that apparently someone had let loose some pepper spray in these close quarters...not the smartest or kindest thing I've ever had someone do at Disneyland.
But the day got better when my hubby took me on a shopping trip to Anthropologie - probably my all-time favoritest place to shop outside of Etsy. =D I get a birthday card with a very nice discount from them every year and that is usually when I go and this year, I got this:
anthropologie.com
Mine is a black stripe but you get the idea. I LOVE it! Super comfy and versatile so I can wear it for many occasions and wear it to pieces before the end of winter. =)
I got a post on my Facebook page today from an old college dorm mate of mine, Kellie. She was a bridesmaid in August and asked me to custom make her jewelry. Here is the picture (Kellie is on the right)! Isn't she beautiful?!
a closer view of Kellie's jewelry!
That is most of what I've had going on recently. But I really wanted to share some of these things with you - these are the things that keep me excited and motivated to keep creating! And having said that, now I have jewelry I need to go and make. =)