The great thing about these deals is that it makes me excited to help other people do holiday shopping but it is also scaring me because I realize then that I have to get a move on with my Christmas shopping. =) But today's 23rd Deal til Christmas is 25% off of
Corrine Earrings in Watermelon Shades
! I love these earrings that have a great color palette of deep greens and rich wine reds!
In other exciting news, I am so excited for the fast coming conclusion to the Cold Hands and Warm Hearts Swap I am participating in! I have had a blast getting to know Morgana from
seemorganacook
and shopping/crafting for her gift!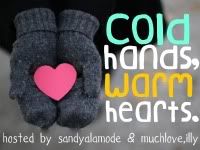 And she is teasing me with a teeny little picture of what she is sending me! =) But it has been a great experience and I am so glad to have a new penpal and friend!!!
Hope you all have a great weekend ahead of you! I will be in Arizona with my mother-in-law and her side of the family which is always a blast! And my little sister has a ballet performance on Saturday which I always love hearing about since I can't be in Hawaii to see this one! =) You will be hearing more about it and seeing pictures as I can get them to you.
Have a beautiful weekend!